Hiring Exhibition and Hostess Staff for Vape Shows
Every year there are amazing vape expo's and shows around the UK, if your business links in with the "vape" industry then they will be for you! Vape shows are jam packed with interesting topics, major potential buyers and much more. To create the most brand awareness at an expo be sure to hire experienced promotional staff and hostesses who have years of experience at these vape shows… but just how many vape shows are there and where are they based?
What Vape shows are there in the UK?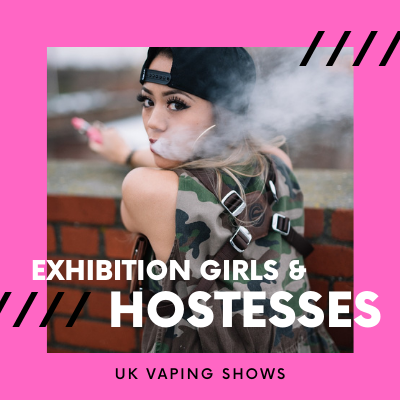 There are many different vape shows across the UK which are all different in their own way, but all have the same objective and that is to create more brand awareness. Below will be a list of just a few exhibitions.
The Vaper Expo is one of the biggest in the UK. These events usually happen in Birmingham at the NEC or in London and at a variety of different locations such as the London ExCel and London Olympia. There are usually around 20,000 visitors at each event which include business to business and business to consumer audiences for you to target your product to.
Vapouround launch exhibitions around the world, they also through the pandemic have been launching virtual vape events across the world where you can learn all about vaping and the health benefits from quitting tobacco to a vape product.
E-cigarette Summit is all about the health of the consumer they pride themselves in protecting the youth from starting smoking tobacco and help people quit smoking tobacco. They always have health specialists to talk through different products to ease the mind of consumers when they are deciding whether to quit tobacco and convert to a vape product. They also have been launching virtual events for both B2B and B2C throughout the pandemic. In a normal business period, they do exhibitions across the UK and in USA.
How do you hire staff to help boost brand awareness?
Hiring experienced promotional staff can help massively to create brand awareness as our staff have years of knowledge and experience working in a variety of different exhibitions for different brands. Therefore, they know about vaping products which will help to optimise your time at the exhibitions speaking to other businesses whilst our staff tackle the customer service and sales.
If you wish to contact our team about hiring exhibition, promotional and hostess staff please call 0844 800 071 for more information!