Wedding Proposal with a difference!
When thinking about popping 'the' question you want your future husband or wife to remember this time with fond memories for the rest of their lives. By hiring a crowd from Pitlane Promotion you can make your proposal completely unique
What about traditional proposals?
Many people like to keep to the traditional way of proposing to their loved one. It seems like the tradition of kneeling on your left knee comes from when knights would honour royalty. This is the image that springs to mind when most people think of wedding proposals. If you are wanting to continue with tradition, you will have spoken to the parents of your loved one letting them know your intentions and then when you do have your moment, the ring box should be in your left hand whilst kneeling on your left knee.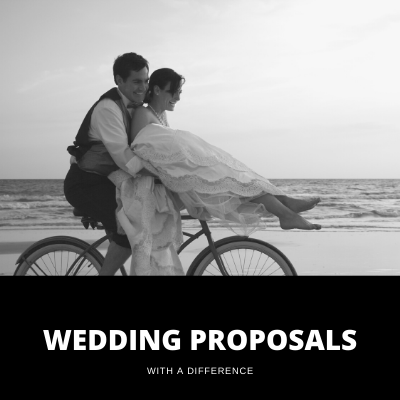 How to make your proposal extra special
Take time to think about what your partner would like; this could be something as romantic as a picnic for two on a lovely summer day or hiring a sky writer to pop the question for you!
Some other ideas that might get your creative juices flowing:
• Choose somewhere that has lots of special memories for you both, this could be somewhere you have visited before, maybe a city, restaurant, museum or a particular walk you like.
• If you like going to the theatre maybe you could speak to the bookings team at the theatre and see if they could help you make your proposal at the end of the show or maybe put an advert in the programme.
• Get your partner a jigsaw puzzle with the words on it
Another exceptional idea…..
Hire a crowd! This will make your proposal completely unique and unexpected. Our crowds can create a buzz or distraction around you, this could be from having a flash mob dance in front of you, sing your favourite song or they could hold up posters as you walk past all can put the element of surprise into your proposal.
We work with a band called the 'Rock n Strollers' you can hire them to some along and randomly start singing your future fiancées favourite songs. You can check them out below :-
Give Pitlane Promotion a call on 0844 800 0071 to discuss your ideas and see how we can help you get the element of surprise into your proposal.