Promotional Models and Event Staff in Surrey
We can supply you promotional people for any event whether it be motorsports, exhibitions, track days and conferences. Pitlane Promotions Agency can provide staff for a wide range of activities in support of new product launches – whether industrial, commercial, retail or consumer – and has staff with a wide range of skills to ensure the successful execution of product introductions, product sampling and promotions. If your event is a small one or a large one, no matter as PLP's staff will do their best to sell your products and promote your service and brand. Our staff are extremely experienced in their field and we are certain that you would be delighted with the results of their work.
Hand to Hand Flyering Staff in Surrey
We provide experienced and local promo girls and boys, event staff and data collection staff across Surrey, including the towns of Croydon, Ashford,Guildford, Croydon, Woking, Sutton, Kingston-on-Thames, and Wandsworth.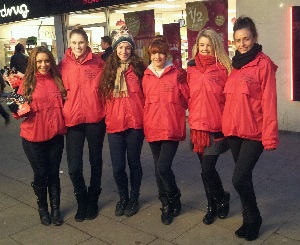 Pitlane promotion has many engaging, hard working and enthusiastic promotional staff available for bookings to give out pamphlets, leaflets and flyers anywhere in the UK. We regulary supply hand to hand flyer distributers at :-
Belfry Shopping Centre, Redhill
Guildford Town Centre
West Street, Dorking
Woking Town Centre
Camberley Town Centre
The Whitgift Shopping Centre
Centrale Shopping Centre
Promotional Marketing in Surrey
Our promotional people ensure you're campaigns is a success by making sure your literature is given to your target market and not just wasted distribution. Get your event talked about and make a lasting impression.
The Pitlane promotional staff can work any kind of promotion and if you want to be a little bit different and have our event teams dressed as mascot performers or costumed characters to get them noticed with their distribution duties we have the best promotional staff for this also.