Hire promo models in Manchester City Centre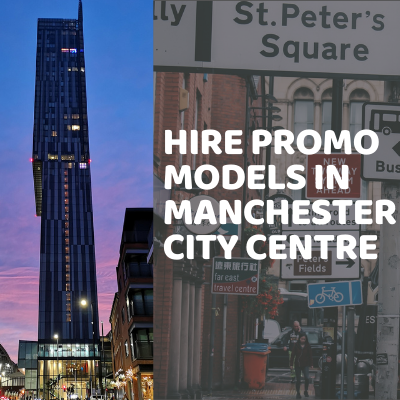 Manchester City Centre is the heart and soul of the North West! It is known for its culture and leisure, it is also home to a growing population of residents, the city centre itself is home to some fantastic museums, theatres, galleries, retail, restaurants, and vibrant night life.
What are the key locations in the Manchester City Centre?
Central Retail District – The central retail district attracts 41 million visitors a year and is the largest city centre shopping centre in the United Kingdom, therefore this is a great place to advertise any new products via leafleting or sampling.
Spinningfields – is an area in the west adjoining the middle part of Deansgate and the main business district of the city centre. The area is noted for glazed, modern buildings – many of which are offices. Spinningfields is a great location if you are looking for conference staff or office temp staff to help with pitching ideas and providing a professional service.
Piccadilly – Piccadilly is the transport interchange of the city centre with rail, tram, and bus services all within a five-minute walk of each other. There are many different easy and accessible routes to get to the centre of the city of Manchester.
Hiring your team of promo models/event staff
With over 1,500 members on our database that live in the North West region we are more than confident that we have the correct personnel for any promotion you wish to proceed with! Our staff have years of experience of working with many different brands therefore they have the versatility to adapt to any brand. The following duties we cover in the North West Region are: Brand ambassador, leafleting, conference, exhibition, costume performing, acting, sampling and many more!
We pride ourselves in briefing the staff to our best ability to ensure that they turn up on the day with no questions and provide an excellent service.
To find out more, simply fill out the booking form or contact 0844 800 0071.