Hire Promotional Staff and Models for Events and Promotions at Centre:MK, Milton Keynes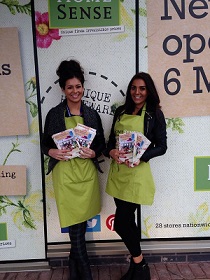 The news at the start of 2019 was encouraging for Centre:MK. Whilst the high street and shopper centres across the UK struggled to maintained footfall, Centre:MK bucked the trend, reporting a 1.13% increase to 25 million shoppers in the previous 12 months. And with just under 4 million shoppers during the festive season, it's no wonder you plan on holding an in-centre promotion here.
Why hire promotional staff for Centre:MK events?
With such a steady and voluminous footfall in this vast shopping centre, the assumption that any instore or in-centre promotion would be a successful and easy one to host.
Essentially, hiring promotional staff and models for in-centre events means making more of the event…
MORE sales – with experienced sales and promotion staff, you can push for more sales 'on the day'
MORE engagement – modern marketing needs to 'reach' people and that means using any promotion as a means of engaging with people and not just selling
MORE memorable – marketing needs to make an emotional connection with people and so making your event memorable is key and our promotional staff can help do that at the Centre:MK
MORE feedback – investing in a promotional event is not just about sales but an opportunity to gain valuable information from your customers
MORE, MORE, MORE! – no matter what the objectives are for your in-centre promotional event, hired staff can deliver what you want and need!
Why turn to Pitlane Promotion?
Of course, you only get these amazing results if you hire amazing promotional staff for events. The same is true when hosting an event at the Centre:MK in Milton Keynes. It may be thronging with shoppers but not every person will be your target customer.
And that means engaging promotional models and staff who fully understand the brief and have key objectives to work towards. As well as professionalism, you want people who are experienced and who know how to respond to the changing environment.
Staying organised, friendly and energetic in their approach is something we guarantee with our promotional models in Milton Keynes.
We have thousands of promotional staff but our first port of call will always be local promotional staff in Milton Keynes. But, we don't compromise on skills and talent. When you contact us, we'll ask for information such as your objectives for your event at Centre:MK and what you want to achieve – and then we match the most skilled and experienced promotional staff to your event.
How to hire promotional models in Milton Keynes
All it takes is one phone call – 0844 800 0071 – or complete the contact form below and rest assured, that you'll have the best team with all the right skills for your Centre:MK Milton Keynes event.