Pitlane Promotion and the Manchester Bike Show, Manchester 2018
For any motorbike or motorsport enthusiast, the Manchester Bike Show is sheer heaven. 22,000 sqm of space filled with the latest machines from leading manufacturers including BMW, Norton and Triumph.
Over 100 trade exhibitors will be bringing their latest products to the retail village and with thousands of motorbike enthusiasts having already booked their passes for the event which is normally held the last weekend in March, it is a biker's paradise that you cannot afford to miss.
Now in its 7th year, the Manchester Bike Show at Event City, Manchester promises to be better than ever.
For you, as an exhibitor, it means you want to make the most of the buzz that surrounds this event. You want to connect and engage with biking enthusiasts so that they have a lasting impression of your brand and products.
Hire exhibition staff for the Manchester Bike Show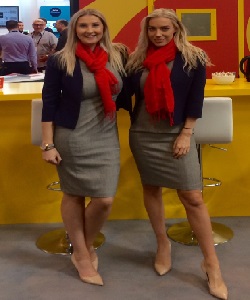 At Pitlane Promotion, we understand what draws people to the bike show because we have a passion for bikes and motorsports too!
It is how our business came into being, providing grid girls and professional hosts for all kinds of motorsport and biking events, racing events – including Formula 1 – and exhibitions such as this popular biking show.
With promises of larger footfall this year, can you afford to miss out on the glamour and the professionalism our exhibition staff bring?
As well as demonstrating your products to customers, our professional exhibition staff will maintain a business focus throughout the time they will be working for your business at the show.
We are the go-to promotional staff supply agency for any event involving motorsports and bikes and so no wonder our clients are impressed with the high level of promotional services they receive. Our staff can generate leads and capture information from customers, swelling your database of contacts too.
As staff can also host events, from VIP receptions to launch parties and more. They can be part of a marketing team that pull the crowds to your stand and will be the professional team that contributes to increases sales and engagement.
Maximise brand exposure with Pitlane Promotion
Brand awareness is about making your products or service as memorable as possible – but for the right reasons. Professional, friendly and engaging, hiring Pitlane Promotions staff for the upcoming Manchester Bike Show, or any other motorsport event in the North West or across the UK, is a shrewd move on your part.
To find out how our team will maximise opportunities for your brand with professional promotional services, just call us on 0844 800 0071 or drop us a line for a competitive quotation to hello@pitlanepromotion.co.uk