Flyer, leaflet and product distribution
Put your flyers, pamphlets and promotional material in the hands of your customers
Pitlane Promotional Agency has many beautiful, hard working, enthusiastic and reliable promotional staff available to give out pamphlets, leaflets and flyers throughout the UK. Our promotional hand to hand flyering staff are extremely well briefed and work very hard to make sure your literature gets into the hand of your target market ensuring you're leaflet campaign is a complete success. All our flyer distributors will know and understand who you want your marketing literature to reach and avoid wasted distribution to members of the general public that are not your target audience.
The Pitlane Agency staff can work any kind of promotional campaign and if you want to be a little bit different and have our event teams dressed as mascot performers or costumed characters to get them noticed with their distribution duties we have the best promotional staff for this also.
Promotional marketing with flyers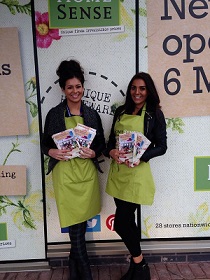 We think it's very important to work closely with our clients so we get a real feel for what you want to achieve from our flyer distributers. Some clients want their leaflets and promotional literature to be given out to anyone that moves while others have a more specific dynamic for our promotional staff to aim at. By taking the time to talk this through with you makes a huge difference to the campaign.
We understand that our flyer distribution staff is representing your business the moment they talk or hand your flyer to a member of public so we take great care to select the best staff to get you the right results. If you wish the promotional girls or promotional boys to talk to the public about your leaflet then we will select staff that has experience with engaging people.
Flyer distribution staff throughout the UK
Our flyering staff and promotional event staff are very experienced and well educated on how to really get your products, brand and literature noticed and understand the importance of making the right impression when representing your business. We have more than 7,000 promotional girls and boys across England, Scotland and Wales so the location of campaign has no bearing on the leafleting staff available for you to hire.
Our staff can work distributing leaflets or as lead generators at retail centres, town centres, tradeshows, exhibitions, concerts and shows to name just a few.
To discuss hiring leaflet and flyer distribution staff call us on 0844 800 0071 or complete our on line enquiry form.