Do you need to hire staff to work on your stand at your exhibition?
Exhibitions and trade show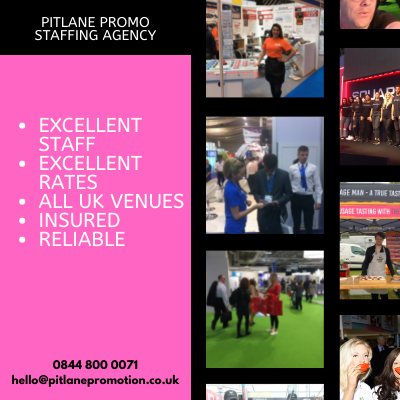 s are again in demand, with businesses eager to reach new customers – which is why you need the best exhibition staff available to maximise your exhibition experience.
At Pitlane, we only employ the best. All our staff are fully insured and ready to work immediately with exhibitors as well as supporting all types of sales and promotional activities. Whatever the type of staff you require – we can provide including demonstrators, meet & greet, data capture, models, reception, sales staff, costume characters, event hostesses, presenters, coffee baristas.
Hiring extra staff to deal with special events such as exhibitions, trade shows and promotional events means that you can instantly increase your sales force without incurring massive costs for one-off events where staff are only needed for short periods. Since all our staff are local to the venue, you avoid having to pay hotel and transport costs to use your own in house people.
Adding some of our expert staff to your show sales team means you can engage with large numbers of visitors quickly and efficiently. Trained to communicate with international clients, our staff will create a lively, fun yet very professional environment. No leads will be missed, and every potential client dealt with efficiently and professionally.
Why use a professional staffing agency?
We know what works at exhibitions. We train our staff and ensure that they are fully briefed before they arrive at your stand. They are punctual, reliable and hard working. We check that they arrive and are on time. All the staff are hand picked from our extensive database to ensure they are the perfect match for your requirements.
As a result this means they are instantly ready to work and deal with queries from the very start of the exhibition. You can trust them to make a good, positive impact.
Get a quote to hire exhibition staff
We get lots of feedback congratulating us on the skills of our staff. All too frequently, companies come back time and time again to hire staff to work at exhibition centres and venues around the country, from the NEC to Excel, from the Yorkshire Showground to the Bath & West Showground.
To find our more complete the form below or give us a call.