Achieving a Big Impact from a Small Stand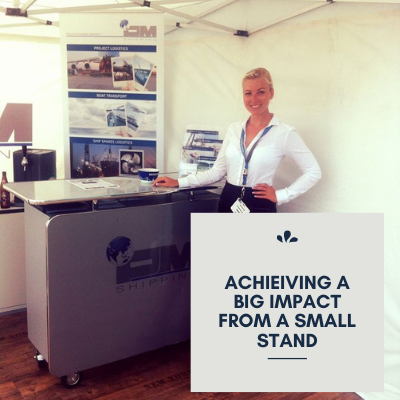 Exhibition stands don't have to be big and costly to be impressive. You can make a massive impact with a small one, using just a little bit of extra preparation.
Standing out at an exhibition can easily be achieved – you just have to have a different approach.
We attend lots of trade shows and exhibitions, across almost every type of industry. We know how expensive it can be, even those small stands on the perimeter.
So how can you make that impact on a small budget?
Even the smallest of booths can attract attention.
Choose your location carefully. Remember that organisers need to fill every space in an exhibition. Having gaps creates a bad impression. A small stand tucked away near the café or refreshment area, or between two competing well known brands can be a very useful option. Relaxing with a coffee gives people time to look around them – and a small stand nearby can catch attention. If you are located between competing brands, then the passing footfall is potentially huge.
Smaller floor space. Looking on the plans, your stand may seem small but on the ground, it can feel huge when you are trying to organise seating and promotional items.
Small means creative. Think outside the box. You don't have to settle for a simple table, chairs and some posters. Be creative. How can you bring your brand to life?
Publicity ideas for small stands
With a little bit of thought, you can make your stand very eye catching. It is easy to do.
1. Make your brand visible on your counter and hire professional promotional staff to go out into the show and mingle with the crowds.
2. Be creative with your lighting. Use layers rather than just a couple of big lights. Task lighting to ensure you can see what you are doing, some ambient lighting to draw attention to a special aspect of the brand, soft lighting at the back to make the stand seem bigger.
3. Consider some interactive materials. People love playing with technology and trying something out. Even a touch screen display will attract attention.
4. Be creative in your design. Use some eye catching colours. Add banners or fabrics to make your stand more tactile. Think about using a photo floor. These are very easy to make as images can be printed onto laminated wood panels and clicked into place.
5. Look for open edged stands. Even small stands can be available at the edge of a row, or on a corner. Having one or more sides open to view makes your stand seem larger and more welcoming.
and most importantly, hire experienced Exhibition Staff to encourage footfall onto your stand!
Small can definitely work very successfully!