Ring Girls for David Haye DVD Signing
Our gorgeous ring girls in Manchester were recently hired for a slightly different assignment.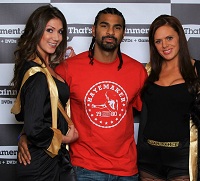 Three of our promotional ring girls were promoting the new DVD for sale featuring the mighty David "Haymaker" Haye. The big man was in attendance signing copies of his DVD and the girls were drumming up interest on Market Street in the centre dressed in fabulous ring girl outfits.
Once again fantastic feedback from the PR agency about our promotional girls who were "Absolutely brilliant."
To find out more how Pitlane Promotion can help you with all kinds of publicity stunts and promotions call the team on 0844 800 0071 for more information