Atmosphere Models
Atmosphere models and promotional models set the tone for any event. Nothing gets the conversation and good times happening faster than an attractive model making sure each guest is enjoying themselves. And that's exactly what our atmosphere models do – but they're so much more than just pretty faces.
We are very selective with the talent we hire. Besides beauty, we look for models who are very engaging and understand how to initiate the mingling that's so important to getting the conversation started. Our Outgoing staff are always happy to interact with the clients and visitors which will help promote your brand.
Hiring atmosphere models ensures a memorable event. The Pitlane Promotion atmosphere girls are handpicked by our promotional agency for being sociable, fun , enthusiastic and professionally confident. Exactly what you need to get the conversations flowing and the event off to a winning start.
Create a WOW factor at your product launch, trade show, exhibition or party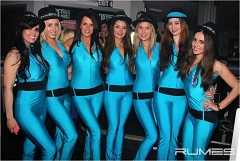 The promotional girls or promotional boys working as your atmosphere models will create that air of anticipation with the attendees waiting for the promotional staff to come and talk to them! The Atmosphere Models find it easy to engage people so if you are looking for them to push your brand then there is no better way to do this than under the umbrella of a social event.
If you are looking to be that little bit different at your next product launch, trade show, exhibition or party then utilising the skills of the Atmosphere Models is a fantastic opportunity. The promotional models are comfortable in all promotional outfits. You might decide to have the models dressed in your company's uniform or have the company logo on a bespoke outfit. If you want to be that little bit daring and have the promo girls and promo boys in something riskay or even as a costume character performer , Bunny Girl or a topless waiter (promo boys only for this one!) then don't be afraid to talk to us about your exact requirements.
Talk to us about our Promotional models for Atmosphere girls and Atmosphere boys
Pitlane Promotion are committed to making your event is a huge success. We understand the importance and the investment you have made for the special occasion. We have Atmosphere models, event staff and promotional models throughout England, Wales and Scotland so your geographical location has no bearing on the experienced, quality staff waiting to make your next event a big hit.
Our promotions team will be delighted to talk through with you how we can assist with your next promotion so please call us on 0844 800 0071 for a free and fast quotation.
Call Pitlane now on 0844 800 0071